Heya Guys!!
I have really been feeling neon's lately. I love the loud pop of colour it gives on my nails, it just screams summer to me. So, of course, when Models Own released their Polish For Tans collection, I had to pick up a few of my favourites. These are actually my first Models Own polishes ever, and I couldn't be more pleased with them, I will certainly be adding more to my collection in the future.
The polish I am showing off today is Shades. It is described as a pastel pink neon polish. I would say it leans a bit more coral then pink, but it is certainly the pink side of coral. This entire collection actually is described as pastel, since there is white mixed in with the neon giving them a softer more pastel look then your average neon, but don't confuse that with dull. These pretties are anything but! They still pack a giant neon punch!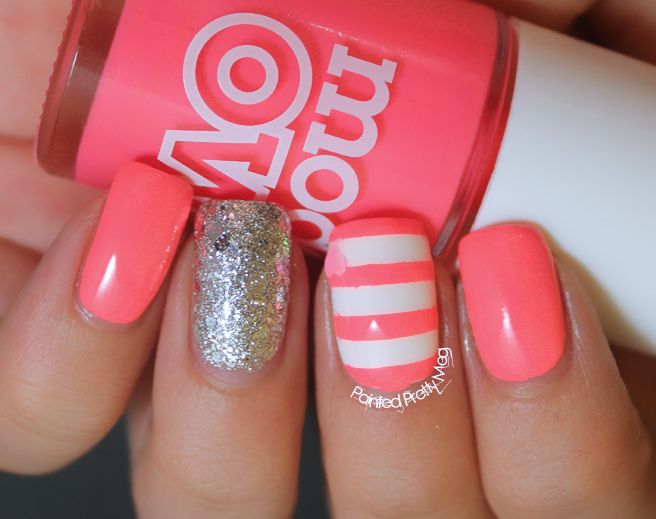 Shades actually reminds me a bit of the original Flip Flop Fantasy by China Glaze, I don't have the original sadly, so I can't compare the two in person, but from what I have seen from images, they seem to share a few qualities, so if you're like me and fell in love with the original, but you never got your hands on it, this might help squash that lemming. This is two coats, without white undies, so it is a fairly opaque polish for a neon. It is a rather thick polish, that makes it a tad tricky to work with, so I advise patience when applying. I found slightly thicker coats was much easier to do then thinner ones. It's dry time also isn't like a typical neon, it has a much slower dry time, likely due to the mixed in white polish but the end result in having to put in a bit of extra work applying it, is so worth it since it is such a gorgeous polish. Not to mention it makes pale me look tan, which is just perfect for summer.
To get this look, I applied Shades on my pointer, pinky and thumb (not shown) Cult Nails Tempest on my middle finger and OPI Crown Me Already on my ring finger. I used straight Nail Vinyls on my middle finger, and painted in Shades over the white. I then placed the heart stud, and top coated everything in HK Girl. The heart studs came in a wheel, of assorted shapes from Winstonia. I actually tried drawing my heart first with polish, but my freehand skills are still very much in the learning stage, so after a few attempts I cheated and used these! :P
I really love how fun and summery this look is. I certainly think I will be doing this again with other colours in the near future! What is on everyone's nails this week!? Are you in full summer nails with neon's too!? Let me know in the comments! Till next time Kittens! <3