Heya Guys!
Recently, I found about this really awesome link up that some people in one of my facebook groups was doing. It is called #RedCoatTuesday and it is Pretty Little Liars themed. PLL is one of my favourite guilty pleasure shows, so when I saw this, I knew I had to join in! Basically, every Tuesday (which is the night that PLL airs) we will all be posting red mani's, red lips, or a red shadow design for #RedCoatTuesday.
I am super excited to be a part of this, and really looking forward to some experimenting with red polish, since red is a colour I don't wear often enough.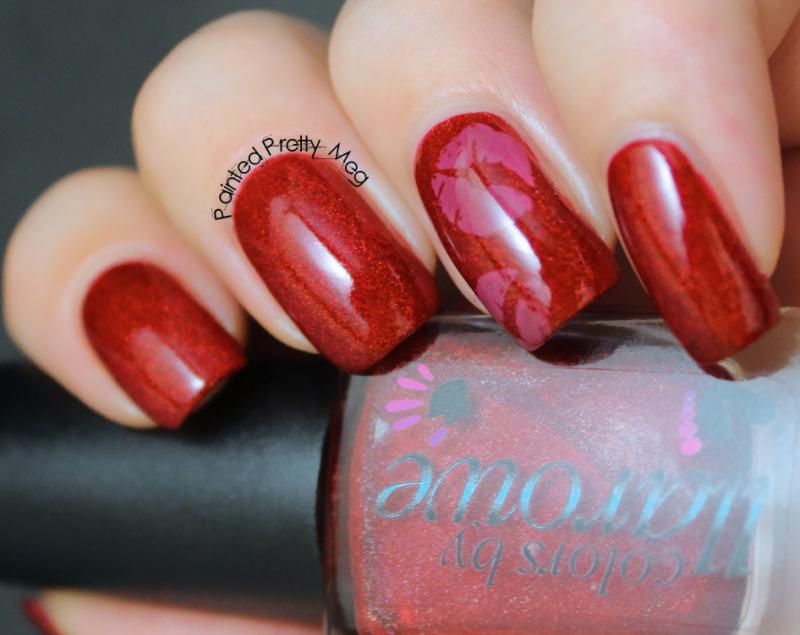 The red I chose this week, was Colors By Llarowe The Mighty Red Baron. It is a beyond words gorgeous red holo, with tons of red glass flecks that make it almost glow from within the polish. As you can see in my photos above, the red shimmer/glitter glass fleck effect on this polish is anything but shy. In fact, it is so glowy, that getting a good shot of this was almost impossible. I think I managed alright in the end, but wow! was this hard to photograph! I mean really, really a huge pain in the ass! lol however, the other side to that coin is that the same glass fleck that makes it impossible to photograph, is also what makes it so stunning, so unique. I truly have nothing at all like it in my collection. It is a tad on the thicker side as I have come to expect from CBL's but nothing that is hard to work with. I decided to add a bit of stamping to this look since PLL and secrets go hand in hand, and what says secrets better then lips! I stamped using a Bundle Monster Plate BM-002 and stamped in a pink unnamed Color Club polish. The lips turned out subtle, but I kind of like that they let the red polish steal the show, since it has enough sparkle and glow to really take centre stage.
Overall I am really pleased with how my first #RedCoatTuesday mani turned out, even if trying to capture this on camera almost made me cry ! :P I think they are perfect for the season premiere of Pretty Little Liars tonight! Is anyone else a huge PLL fan? Are you as excited for the new season as I am?? Let me know! Till next time Kittens! <3
Don't forget to check out all the other lovely Red Coat Tuesday looks too!!