Afternoon Guys!
I am a bit late on posting today, my morning was a bit hectic. It is Tuesday, and that means Pretty Little Liars day! This week's #RedCoatTuesday mani is featuring the oh so lovely Pepper by Zoya. It is a deep, brick red, that has the perfect sultry vibe to it for a PLL mani.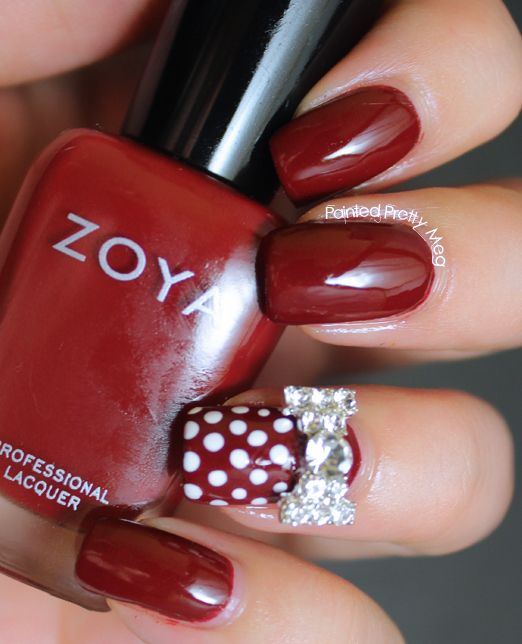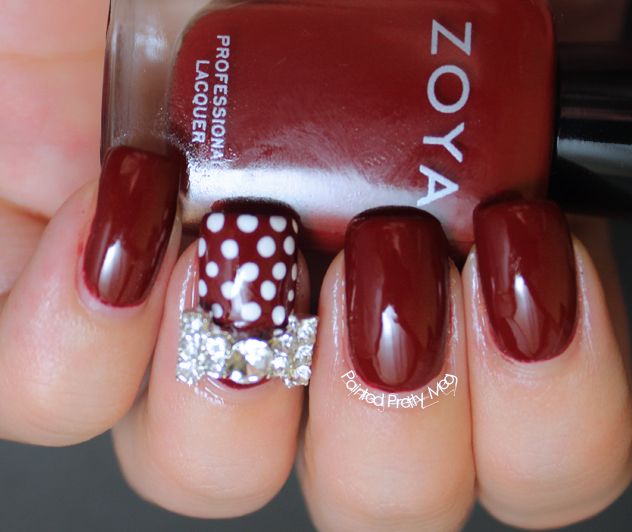 To get this look, I started with a base of Zoya Pepper. I did 2 coats. It was almost fully opaque in 1 coat, but I did 2 since I had the smallest amount of VNL when in the light. I then used a dotting tool, and Cult Nails Tempest to place dots on my ring finger. I then top coated everything off with HK Girl, and when it was still tacky, took the
rhinestone bow
and placed a small dab of nail glue on the back, and placed it on the nail.
This is my first time wearing something so 3D on the nail. I love the look of it, but to be honest, it feels a bit awkward. I find myself constantly catching it on things, and always wanting to touch it. I certainly think that the bows would be great for a night out, but I am not sure it is good for every day use. Even so, I still really love how this came out. I think the red gives it a very sexy vibe, while the polka dots and bows, give it a bit of an innocence. A very naughty nice mani! I am not sure how long I will keep this on, since the bow is a bit in the way, but I do love the look of it, so will enjoy it while I have it on!
Alright guys and gals, I think that mostly covers it for today. How do you guys feel about 3D deocrations for the nail? Yay? or Nay? Let me know! Till next time kittens! <3
Also, don't forget to check out all the other awesome Read Coat Tuesday looks!