Heya Guys!
It is officially summer! It has been warm around here for a few weeks now, but to know it is official is still kinda exciting! One of the things I love most about summer is the flowers. They are in full bloom, just bursting with life, and wonderful flowery scents. All that flower awesome is what inspired today's nails.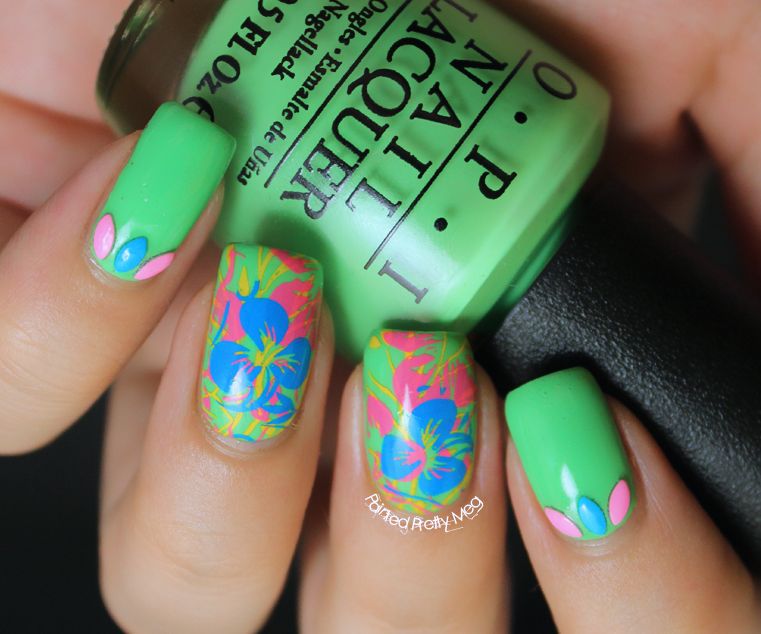 To get this look I started with a base of OPI You Are So Outta Lime. It is a "neon" from their new neon summer line. I say "neon" cause it isn't really a neon. It is an incredibly pretty lime green polish, but neon it is not. However, if you are looking for a unique, bright lime green polish, this could be it. It applied nicely, especially since it is considered a neon. Once that was dry, I stamped using Pueen plate 72 from the buffet stamping set. I used the same plate for all 3 images, just picked different parts of the plate each time. I stamped in Mundo De Unas Yellow 11, Orchid 55, and Blue 4. The studs are from Born Pretty Store. I then topped coated everything with HK Girl.
This was the first time I have stamped on the same nail more than once, and I couldn't be happier with the results. This is certainly something I will be doing again. I really love the jungle feel of this, and the bright colours go so well together, and although the green isn't neon at all, it is bright and oh so pretty!
Alright guys and gals I think that covers it for today. I think I am off to lay poolside today! I hope everyone has an awesome sauce weekend. Till next time kittens! <3