Heya Guys!!
If you are borderline obsessed with all things MoYou London, like I am, then you probably heard that they recently released a
bridal collection
of plates. I of course, had no self control, and had to get the lace plate. I mean seriously though, lace!? Who can turn down lace!? It arrived about a week ago, but since my favourite person was here, I just recently got a chance to play.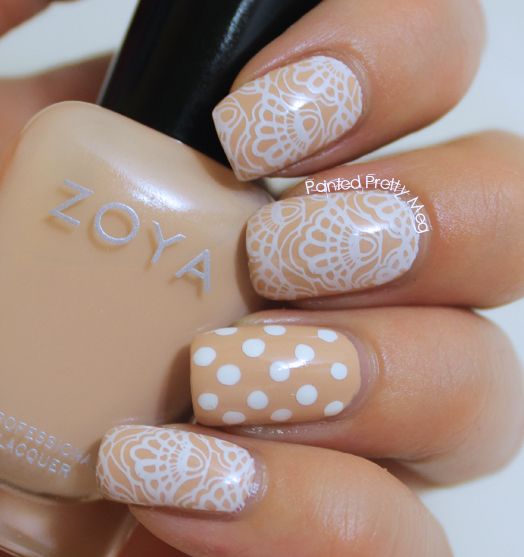 To get this look I started with a base of Zoya Chantal, which is a gorgeous creamy beige, that is opaque in two coats. The application is amazing, I mean really amazing, and Chantal isn't streaky at all. This is going to get used a lot as a base in nail art, or worn just because I am swooning over how awesome it is!
Once my base was dry, I put the dots on with a dotting tool, using Cult Nails Tempest. These dots are also on my thumb. (not shown) The rest was stamped with MoYou London Bridal Plate 07, which currently at the time of writing this is sold out, but MoYou London seems to be pretty quick with their restocks, so it shouldn't be out of stock to long. I would recommend watching their
facebook
for info, if you are interested in this plate. I stamped the lace using Konad White. I finished this off with HK Girl top coat, and viola, super girly, elegant lace nails!
When I first started this, I wasn't sure the polka dots would work, but once it was all on my nails it really seemed to go perfectly together, and I couldn't be happier about the outcome. I love colours, and glitters, and sparklies, but sometimes, a soft, uber girly palette cleanser like this is needed.
Alright guys and gals, I think that pretty much covers it for today. I know lace has been almost everywhere lately, and I would say sorry for making you look at more lace, but honestly, who gets sick of lace nails!? :P Have any of you jumped on the lace bandwagon?? Are you as in love with the lace look as I am?? Let me know! Till next time Kittens!! <33