Hey all!
In my area Zoya polishes are pretty hard to come by. Which is awful for me, since with Zoya it was love at first sight, or should I say, at first brush stroke!? Too cheesy?? Yeah, too cornball... Anyway, moving past that terrible one liner. Since Zoya are hard to come by, I have to get my needs filled through online retailers, which means I normally lust after stuff for a while before it ends up in my hands.
Recently I made an online purchase for some Zoya polishes. PixieDust ones to be exact. Now, I know I am a bit late to the party with this, but along with them not being easy to come by, I also, in the beginning, wasn't sure how I felt about the whole "texture" craze. Finally, after timidly trying a couple of texture polishes and seeing gorgeous swatch after gorgeous swatch. I was converted! I made an online order, and waited like a little kid at Christmas for the mail man to bring me my pretties.
As you can guess, since I am you telling this story, that they recently arrived in the mail. I just couldn't wait to throw on some Gilmore Girls, since at the moment I am currently re-watching! No judging!! I love it!! and slap one on my little fingers and see the PixieDust effect! The one featured in today's post is London. Which is a charcoal black/grey. It reminds me of fairy dust, but with an edge. Like, Tinkerbell goes punk. I will leave the rest of the particulars till the end. What I thought, formula, all that awesome goodness.
Anyway, onto the pictures! First up are the indoor shots.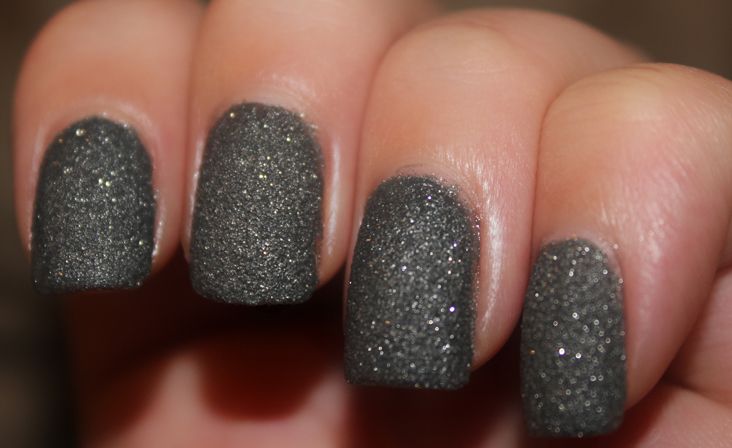 Now some outdoor shots. Unfortunately the sun wasn't playing nice, so the images aren't as sun filled as I was hoping for, but I did the best with what I had available.
Such a gorgeous polish!
I know a bit picture heavy, but I really had fun getting out the camera and snapping way too many pictures! I still need to work on my pictures skills a bit, but I will get the hang of it eventually! I should at least get points for no iPhone pictures this time.
Okay the polish related stuff. I really love this polish, not only did it apply extremely well, it was opaque in just 2 coats, which is always a plus. I wore this without a base coat, and obviously no top coat. I can't really comment too much on wear time, since I only wore it for a day before taking it off, but in that day, it did wear really well. Especially since I over wash my hands, and I tend to bash them into things WAY to often! I may be just a teeny bit accident prone!
Anyway, I think that is enough for one post, and I hope the 2 people I am making read this enjoyed my ramblings. I do enjoy writing them, and maybe, just maybe, some more people will show up soon! If by some miracle though, there are others, don't be shy. I am a total whore for comments. Well anyway, till next time kittens!