Hey Guys,
I hope everyone had a good weekend! I had the entire weekend off from work, for the first time in, oh my gosh! 6 months maybe!? I spent the weekend relaxing, catching up on some house work, and of course, a little nail art!! :P It was great, and I am so glad, that the slower season is here with work, so that weekends off, won't be so rare!
Today I have a polish from the KBShimmer fall collection, Teal Another Tail to be exact. I absolutely adore this colour. Not only is it a gorgeous gorgeous, almost emerald green, but it also has a stunning purple shimmer, throughout it. I was just mesmerized, by how pretty this colour is, the whole time I had it on. I was constantly moving my hands to catch it in the light, and being awed every single time. The only downside, was how distracting this polish was to have on my nails.
If you have been on the fence about this polish, or any of the polishes, from the KBShimmer fall collection. I highly, highly recommend picking some, or all of them up. Every single polish is, simply put, amazing. I got the whole collection, and will be showing it off in the coming weeks. As a fun fact, this was actually my first entire collection purchase. I am pretty new to nail polish, as I have mentioned before, and have always just picked up the polishes from collections that I consider to be "must haves". When I started seeing images of the KBShimmer fall collection, I simply couldn't seem to pick any favourites out. I kept trying to only pick out a few, but couldn't seem to settle on which ones were my "must haves" so eventually, I caved and got the entire thing. In the end, I am really glad I did, cause like I said before they are all simply stunning. The application of this was of course, awesome. I don't think I have come across a difficult KBShimmer yet.
Alright, now that I have been a total cheerleader for this collection, it is time to finally show it off, so you all can see why I am totally enamored with it!
The accent nail is OPI - My Vampire is Buff for the base , then Essie - Play Date, Zoya - Shawn, and KBShimmer - Teal Another tail for the dots.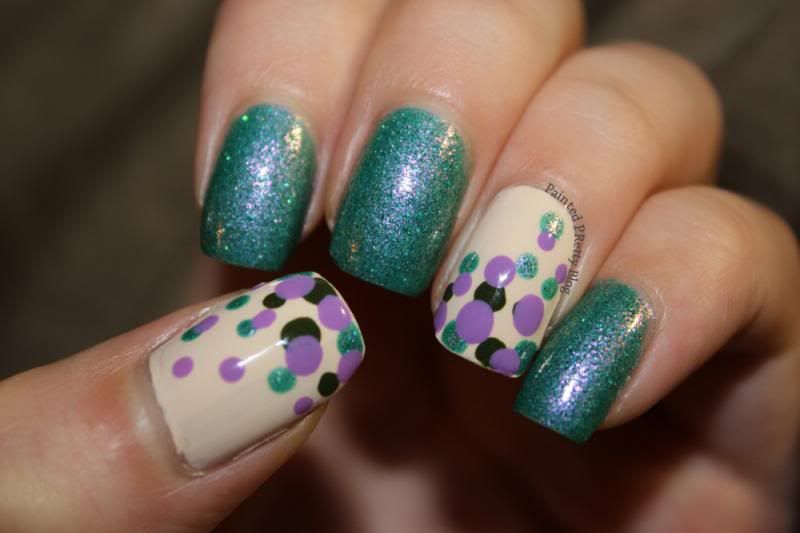 I had to show off my thumb, since it adds to the look.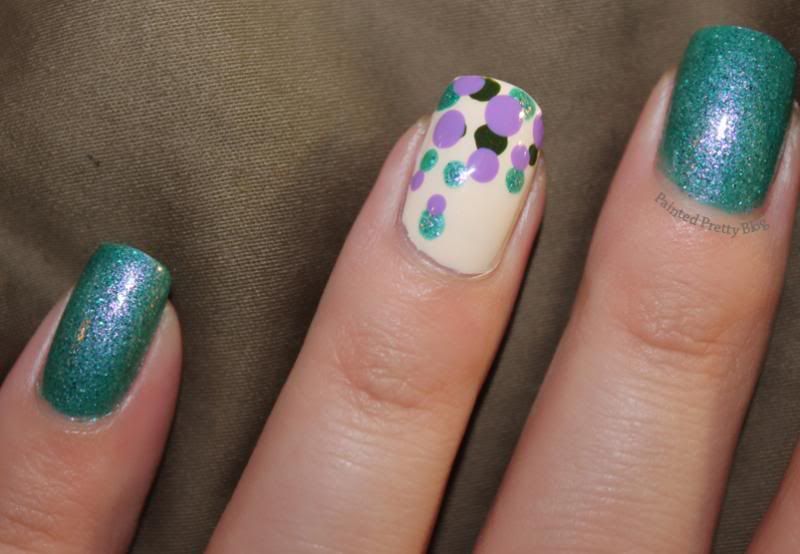 I just love the purple shimmer.
And here is the entire collection, just in case you haven't seen it.
R to L: Turbulence, You Autumn Know, You Go Ghoul

, Vicious Circles, Every Nook & Cranberry, Teal Another Tail, Excuse me, I Blurped.
I know, I know a bit picture heavy, I seem to be saying that a lot! I don't mean to be spamming with pictures week after week! I just had so much fun taking pictures that I got a bit carried away, plus I have been working on some of my photography skills, lighting and colour accuracy, that I just couldn't help myself! I really think I have some solid improvements here, and I wanted to show that off a bit! Still a ways to go yet, but getting there at least! You also likely noticed I have added a watermark to my photos. I thought it a good idea to start branding them. I tried a few different colours and styles here, and haven't settled on anything yet, but will soon I am sure.
Okay guys, I think that pretty much covers it. I hope you enjoy the images, as much as I enjoyed taking them! Till next time Kittens!!
P.S. **Incoming shamless plug for myself!!** I recently got a Instagram, and Pintrest account and have added follow buttons at the top of the blog. If you feel so inclined, feel free to follow me there :D