Heya Guys!!
How was everyone's weekend? Mine was busy, I am in the process of building a nail room, and there is a lot to get done. I would say it is about halfway though now, so hopefully in the next couple weeks, it will be finally finished!
Today, I have a mix and match mani for you, using another piCture pOlish shade. This time I used a lovely almost florescent pink/coral colour, called Electric Dream.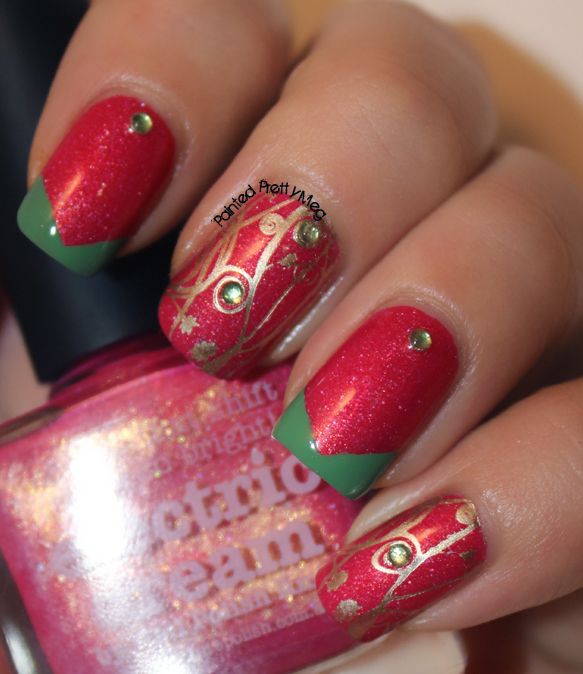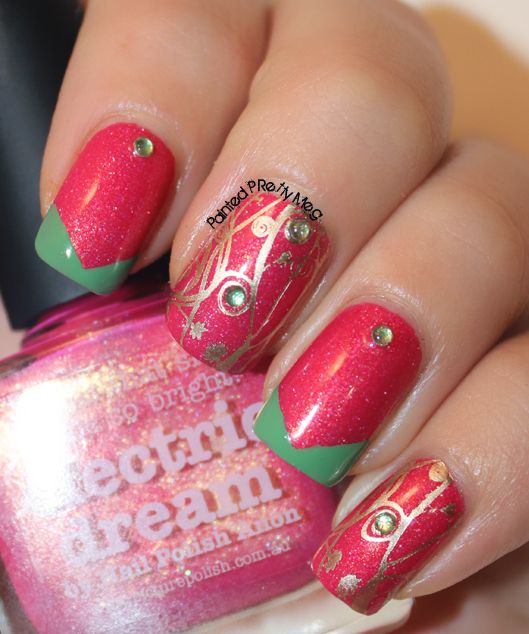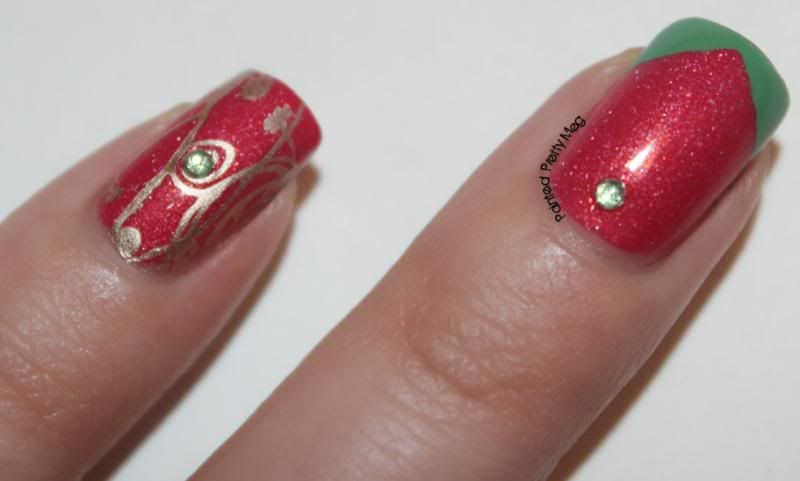 For the most part, as you can see, this leans mostly pink on me, but I don't mind at all. That pink paired with the lovely golden shimmer is simply stunning! It is actually funny, when I first put it on, I had all my nails painted, but no top coat added yet, and was looking at my nails, feeling very underwhelmed, and a bit disappointed, since this had been on my wishlist for many months now After a couple of saddened sighs, I realized I hadn't added top coat yet! Let me tell you, that is when this shade comes alive, the shimmer comes out to play, and the colour almost glows! The best part, is that I had known that it dried to a semi-matte finish, and had just had a serious blonde moment!
I was really feeling spring weather, and a bit whimsical in my excitement of the nicer weather approaching, so I decided to do a mix and match theme. I used Zoya Josie for the green tips, since what says spring more then a gorgeous grass green colour!? Since I am not the best at freehand, I also used an amazing wonderful product call
Nail Vinyls
, in the single chevron, to get such clean lines. For the stamped nails, I used Essie Good as Gold, and stamped with MoYou London Pro Plate 14. I then added cute green rhinestones, purchased from Born Pretty Store, to tie the look together. I really like how this came out. I am not sure if that is because of the colours, or the design, but I wore it all weekend none the less!
Have you been getting a serious case of spring fever? Have you done any nails in the spirit of that? If so let me know! I would love to hear about it! :D I think that mostly covers it for today, and as always I hope you enjoyed my ramblings mixed with some polish fun! Till next time Kittens! < 3