Afternoon Guys!
I hope everyone's week is going well, mine has been busy, but good! Today, I have for you a polish that was recently released by piCture pOlish. It is a LE shade, that when I saw, I just knew I had to add it to my polish stash. Solar Flare, is a gorgeous duo-chrome shade, that has an orange, burgundy, gold shift, complete with the signature piCture pOlish holo flakes. This is a bit picture heavy, (sorry!!) but I just couldn't help snapping photos of this! It is just so pretty!
This is in my light box, with flash, I had to show off some holo sparkle!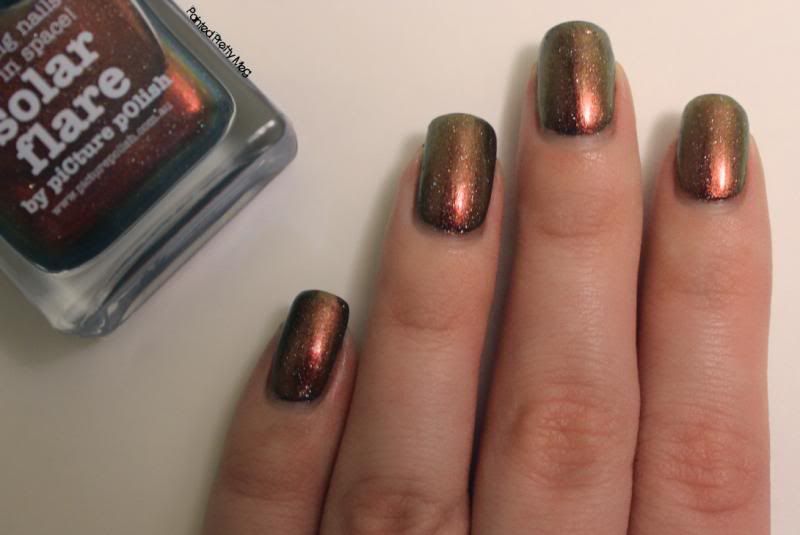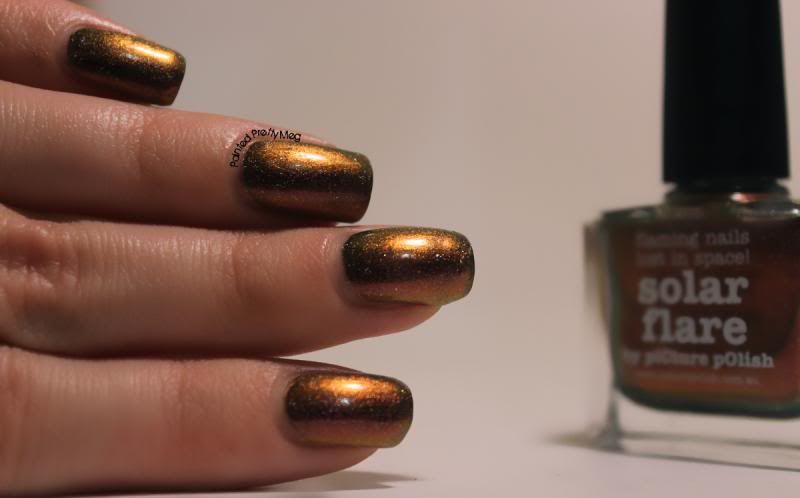 This is meant to be worn over black polish, and that is what I did here. I did one coat of OPI Black Onyx, then once that was dry, I added a coat of piCture pOlish Solar Flare, and wow! Solar Flare could be worn on it's own, but I would think you would need at least 3-4 coats, since it is very sheer, as to let the black undertones show through, I really think it would be gorgeous alone too though! The application was amazing, no trouble at all, and the dry time was quick.
This is currently sold out, everywhere, but I have heard there will be another restock within the month. I would check piCture pOlish's facebook for updates on when the next restock is going to happen. I highly recommend this shade, since it has such personality, and such depth on the nail, and would make an amazing base for a galaxy mani!
Alright, I think that covers it for it today, I still have some things to get done and the day is already half over! :l /sigh lol!! Till next time kittens! < 3
For buying info, this and other PP shades can be purchased worldwide directly from piCture pOlish or a list of international stockists can be found here