Heya Guys!!
Oh my gosh! Two whole weeks, since my last post! The long delay, was so not intended!! :( Things are FINALLY settling down for me though, so this whole fail of posting should come to an end!! I feel so bad about it, cause I don't want to be the blogger that disappears for long periods of time then shows up saying how sorry they are that life got in the way!! I promised not to go longer than a week, then puppy surgery and Thanksgiving (since Canada) and a few other crazy things, and bam! It had been two whole weeks! If you follow me on instagram, I HAVE at least been posting there, but I still shouldn't have neglected my blog. I am really, really sorry though, however poor my excuses may be!! This post has a bit of a story, and meaning behind it, which I will explain after the images...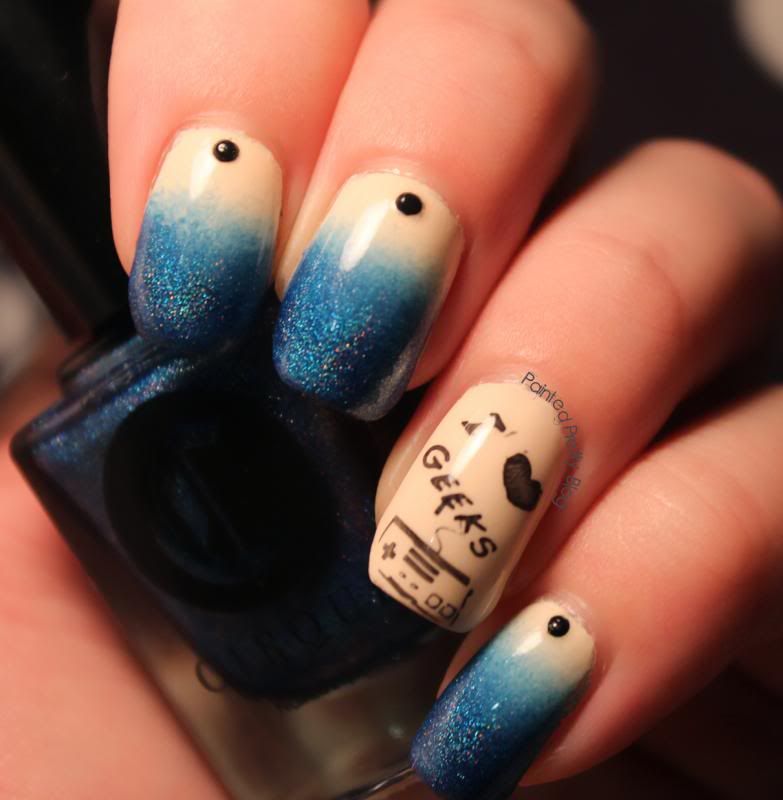 Isn't this just so adorable, even though, the stamping isn't perfect!! :P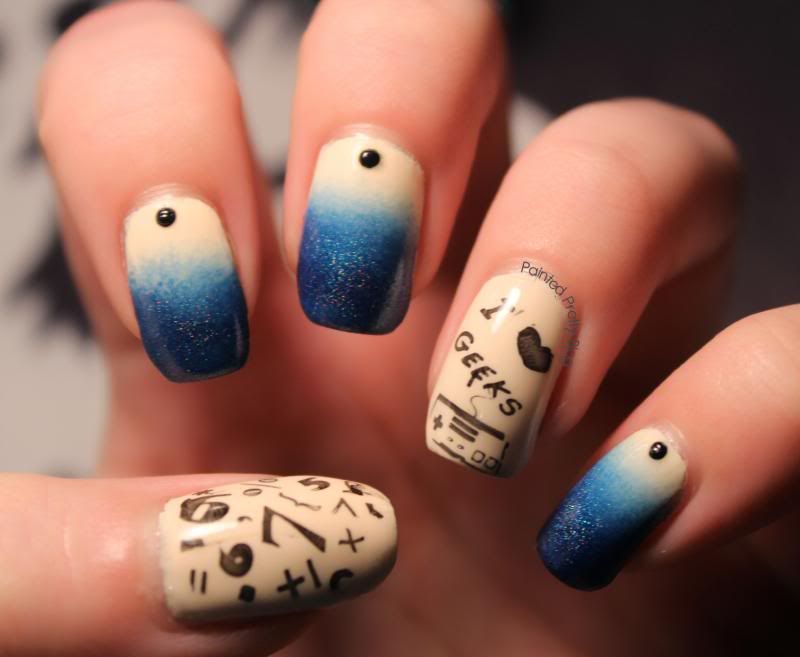 Thumb image!! :D
Sorry, that these aren't the most amazing images to date...,I am not exactly sure what happened here. Every single image I took that day, turned out a bit on the dark side. I even did some colour balancing in photoshop, and this was as good as I could get it, without skewing the whole image. I really wanted to share this mani with you though so less then stellar images it is!
Okay, so the story. Basically for a while now, I have been wanting to do a boyfriend inspired mani. Not only is he amazing and incredible all on his own, but he has been beyond supportive and a total rock for me in the last few months, where things have been rather hectic for me. I am not sure, I could have honestly gotten through a career change, a roommate moving 3000 miles away, and a slew of other things with a smile on my face, if he hadn't been there for me. He has been my constant through all these changes in my life, and as an added bonus, not only is he SO supportive of my nail hobby. He also got so excited I did "him" inspired nails, that he managed to tell everyone we know about it! Which made me blush so, so much! Okay, enough boyfriend gushing! I will explain the nails a bit. Basically, the numbers repersent his love of math and the fact that he is an engineer. I did actually plan to go with binary since that is much more accurate, but I am still very new to stamping, and I couldn't seem to get it straight enough for my liking, so I decided on numbers. The video game controller is because him and I both are HUGE video game nerds, that is actually the geeks portion too. We both play a slew of video games, from Diablo, to Starcraft, to Everquest 2, to Simcity, the list is insane, but I think you get the idea. :P The blue is inspired because, although his favourite colour is green, he seems to love blue on me, whenever a question of colour is asked, "Which shirt?" to "Which nail polish colour today?" He always picks blue, and if he has a choice in nail polish finish, it is almost always holoraphic.
So there you have it kittens!! I am still so so so sorry about the 2 week delay!! I promise, life is more normal now, so the long delays should be over finally! I really hope you all can forgive me!! I have a huge stock of images I want to get posted up and am planning another post before the end of the week, if that helps make it up at all!! :D Till next time Kittens! <33
P.S. - I have been a total freak for stamping, since I recently purchased some Pueen and Bundle Monster Plates. This mani was done with the new
CYO Bundle Monster
set, if you haven't seen it yet, you really need these plates in your life....seriously....they are amazing. They have so many great images. I have already used these plates 4 times since getting mine last week in the mail.
Polishes I used were:
Base - OPI: My Vampire is Buff
Blue: - Cirque: Bejeweled
Stamped Images: OPI: Black Onyx
Black Rhinestones from Born Pretty Store