Heya Guys!!
Happy Friday Guys! :D Gotta love that it is almost the weekend. Today I have a post for you, that is a new to me, indie brand. I recently made my first Girly Bits purchase. I got 2 polishes, Giggity Giggity Goo, which showed up on
my instagram
last week, and D!ck In a Box, which is what is featured in today's post.
D!ck in a box is a gunmetal grey, with a subtle holo effect that is perfect for fall, not to mention a super fun name! Alright, without further ado, onto some images of this stunner!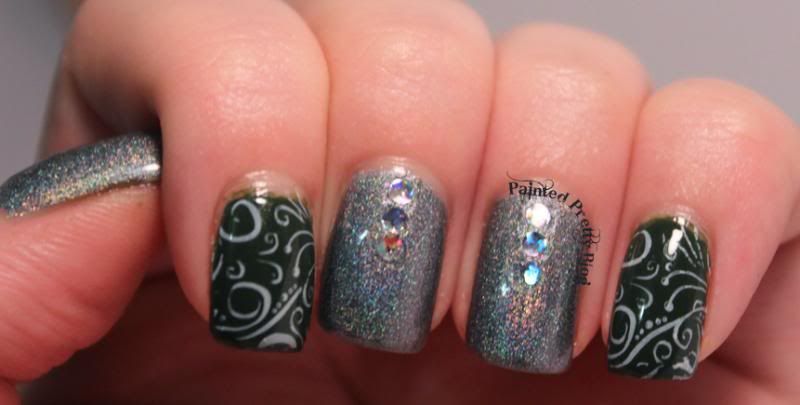 As you can see, my camera had a hard time picking up the subtle holo effect. I promise you however, it is there! This is a shade you really need to see in person, to appreciate just how pretty it is. This polish, went on really great for a holo. It dries quickly, but not as quickly as other holo's I have tried. I would recommend giving it a bit of time in between coats. If you try too polish too quickly, it will pull a bit on the second coat. If you give it a bit of dry time though, it will go on great. Isn't it gorgeous!?? Almost a prism effect, when you are wearing it, and it seems to pick up that effect even in terrible lighting. The holo circle glitters I used over the polish, to dress up the nails a bit are OPI - I Snow You Love Me (yes, again! I told you I loved it!)
My pointer and pinky are a base of Zoya - Shawn, stamped with Pueen 26 in Cult Nails - Tempest. Which by the way is an amazing wonderful, great to work with with white, if you are searching for a awesome white polish, I highly recommend you check that one out!
After using both of the Girly Bits polishes, I seriously think I need more Girly Bits in my life! I really loved the colours, and the quality of both were awesome. Plus as an added bonus, Girly Bits is a Canadian Company, so supporting a company on my home turf is always a good thing!
Alright guys and gals, there is laundry to be done, and a slew of other errands to get too....(glamorous life I lead :P) As always, I hope you enjoyed reading my ramblings, as much as I enjoyed writing them!
Till next time Kittens! :D