Heya Guys!!
I hope everyone is having a good week! Enjoying the cooler fall weather, and all that. I know I am, although winter is coming on fast, and that makes me miss the warmer weather already! Today, I have for you a mani that showed up on instagram a week or so back. I wore it for Thanksgiving weekend. It was muted enough for a family gathering, but not so much so, that it lacked personality! It is just perfect for this cooler weather, with it's deep rich browns, and slight shimmer. I will let you in a little secret about me and brown polish, I love brown! I tend to wear way to many brown polishes in the fall/winter months! Wait...Is there such a thing as too much brown polish!??
I put this together after I picked up a couple of the OPI Holiday shades from this years Mariah Carey Holiday 2013 set. I have to say, I only have a few shades from this collection so far, but based on those colours, I really need to pick up some more shades! Anyway, here is what I wore for Thanksgiving weekend...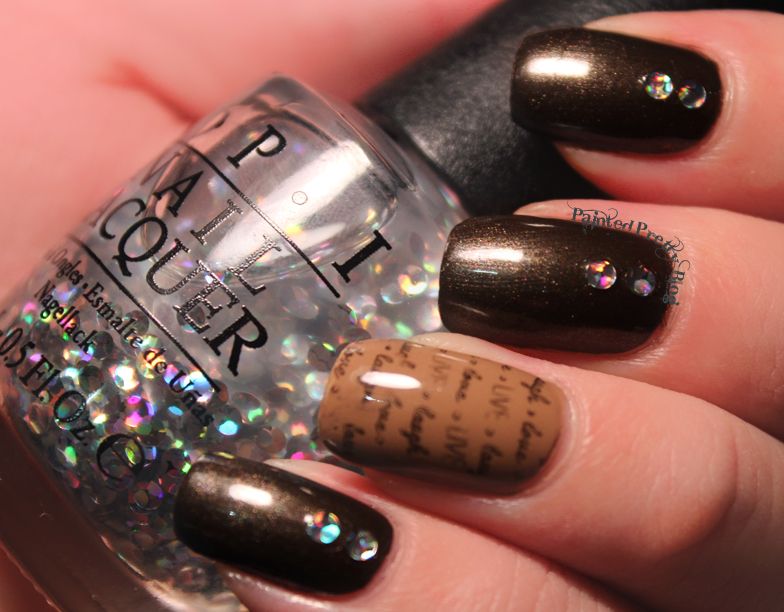 Isn't it just gorgeous!?? I liked this a lot when I wore it, and I got a ton of compliments over the Thanksgiving weekend for this mani! To get this look, I started out with Warm Me Up by OPI for my pointer, middle, and ring fingers and thumb. Then I added Flynn by Zoya on my ring finger. While Flynn was drying, I got out I Snow You Love Me by OPI and used a toothpick to place those awesome sauce circle glitters on all my nails but the ring finger. Then I took a Bundle Monster Plate, BM-405 to be exact, and stamped the image over Flynn, and voila! I was done! Have I mentioned before how awesome stamping is!? I think I have ;) Well, it can't be said enough!
I want to add here quick before I go today, that I am sorry about the somewhat dry hands!! :l I have actually been having a bit of an issue with that since the weather turned cold. I have been using hand creams, cuticle creme and cuticle oil obsessively, but with limited success. I am close to getting out the Vaseline and white gloves, and going to bed every night like that. Any tips on anything I can do, to improve the dry hand issue would be beyond helpful, and super awesome. What are some of the things you do to combat the colder weather?
Alright guys and gals! I think that covers most of it for today! I hope you enjoyed reading my rambles, and maybe, just maybe inspired you to pick up some of the holiday collection? More particularly, I Snow You Love Me?? I have used it about 4 times already, since I got it a few weeks ago. It seems to be something I am reaching for often, when dressing up my nails...For a little extra persuasion, here is a bottle pic!
Look at that holo awesome!
See how stunning it is!? Like a bottle of rhinestones, or sequin glitter! ...Alright, enough OPI fan girl behavior for one day! :P Till Next time Kittens!