Heya Guys!!
I know I promised no more then a week without a post, and here I am a day late, but like I said before, things have been rather hectic for me lately, so it has been hard just keeping up with 1 a week :l Just this week alone, I have my roommate moving out, and across the country, and puppy surgery (nothing to serious, just getting one of my dogs fixed, one of his "boys" never descended, so it is abdominal surgery unfortunately though) :l The sad part is, these aren't even the most eventful things to happen to me in the last few weeks! The good news is, that things should be getting back to a more normal pace after this week, so this posting fail should stop after this week! Just bare with me a tiny bit longer guys!!
Anyway, like most days in the past couple of weeks, I am short on time today so I will make this short. If you follow me on instagram, you already know, I recently got my paws on a couple of Enchanted Polish, polishes. Today, I am showing off one of the colours I got! I didn't get all the "hype" around this brand, till I tried it for myself. Honestly, there are NO pictures, that really, truly do this brand justice. You are just going to have to take my word for it.. This brand is SO worth all the hype!! This mani features EP Kids, with a bit of OPI - My Boyfriend Scales the Walls....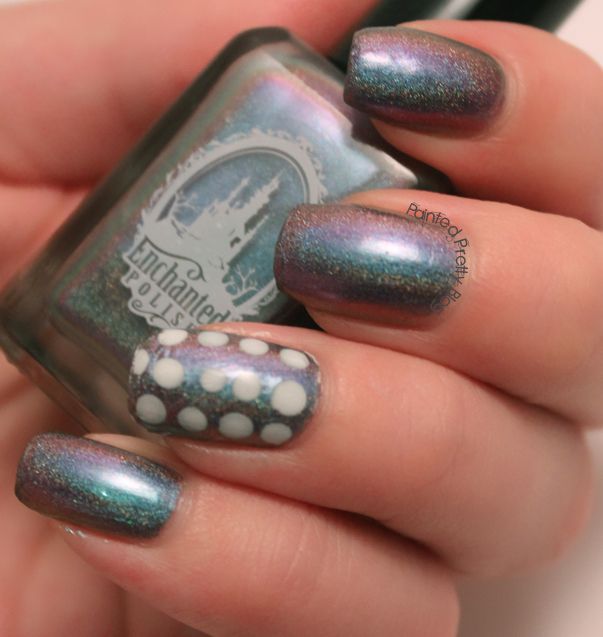 Isn't it just amazing!??? There is so much going on in this polish..I don't even know where to begin!! The holo awesome, the duo-chrome,...the depth of the polish is simply stunning, not to mention the flawless, easy application. I got so many compliments when I wore this.. Simply put, I think everyone should have at least one Enchanted Polish in their stash...You won't regret it! I swear!!
Alright guys and gals! I know there isn't much to it here, but I hope you liked it anyway, and if everyone wants to think good thoughts for my puppy on Friday, that would be totally awesome of you!! Till next time kittens!!