Evening Guys!!
It is late, and this almost didn't get done, but I managed to get this out, so yay! small victory! It is pretty busy for me this week. I am doing a friends nails for her wedding (including the wedding party) and I also have another friend from out of town, staying with me for a couple of days before that, so things to say the least are hectic!
I will get right to it today, since as you can guess, I am a bit pressed for time, tonight's mani is featuring a gorgeous pastel orange shade, that is just stunning, and if that wasn't awesome enough it glows in the dark! This is how I wore Serum No5 Atomic Peach.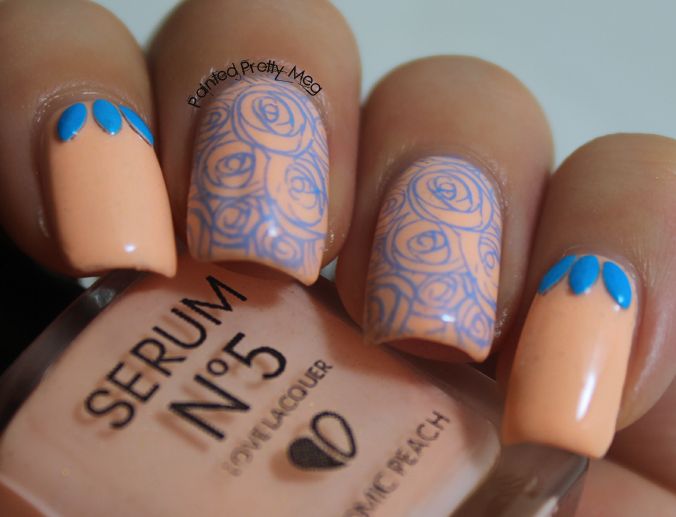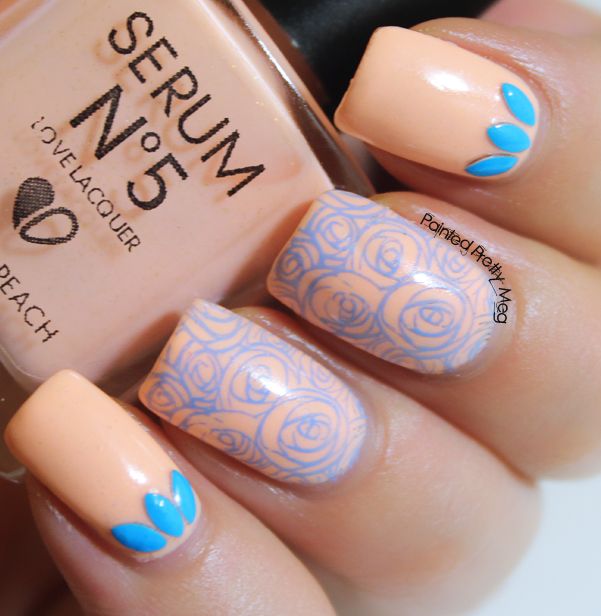 And of course, this wouldn't be complete without a glow shot!! I apologize in advance for my less then stellar GITD image, this was my first time photographing a GITD polish, and it was definitely a learning experience!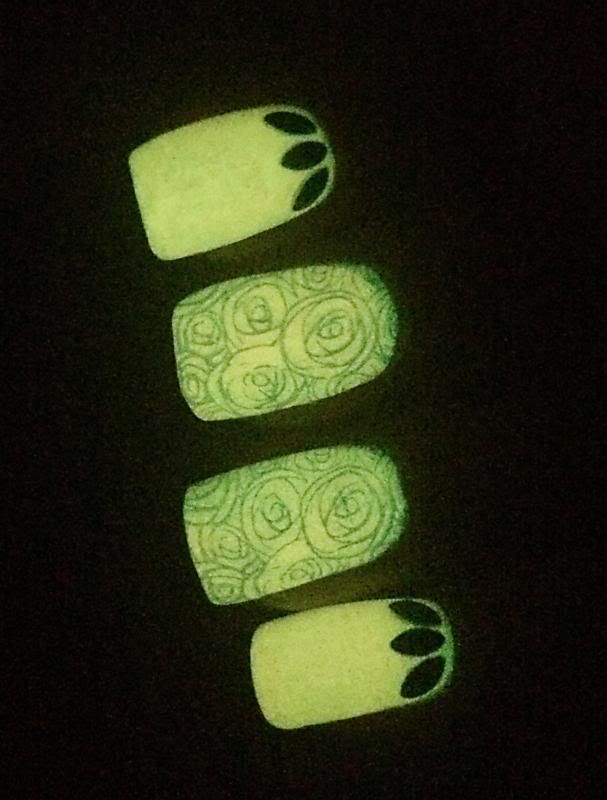 I think this turned out really neat! I really like how the roses stand out in the dark, and they look super elegant in the light. I also love the shimmer in Atomic Peach, it is super subtle, and really pretty. I am pretty sure the shimmer comes from the glow pigments, but I could be mistaken on that. Either way, it makes it such a gorgeous shade. It is a tad on the sheer side, I used 3 coats to reach opacity, however, if I had shorter nails, or wasn't taking such up close pictures of my finished mani, 2 probably would have be fine.
For this look, I used Serum No5 Atomic peach as my base, once that was dry, I stamped using MoYou London Princess Plate 12 in piCture pOlish Swagger. I figured Swagger would be perfect to stamp with, and I was right. The studs are from Born Pretty Store. This was a pretty easy look to get, which is great for me this week, since I am a little short on time.
I don't have a large collection of GITD shades, I think only 3-4 at most, but every time I wear them, I have such fun with them, that it certainly makes me question why I don't have more. Do any of you have any awesome GITD polishes? Do you wear them often? Or are they "Halloween only" polishes? Let me know in the comments!
I think that mostly covers it this evening. I will put out a small note here. I am hoping, and hoping is the key word here, to get another post out before the end of the week, however, with my insane week, I can't make any promises. Unfortunately, I am not good at stock piling posts, so I don't have to much to work with in my drafts...sorry!! but I will sincerely try to get something out before the weekend, and if not, I will have something this weekend I am sure. Alright, till next time Kittens! <3