Hey Guys!
Happy Friday! Oh, and of course Happy May! Today I have for you, a holo gradient, with some MoYou London Stamping. I used 2 Colors By Llarowe polishes, and a Cirque Colors polish for this look. I really wish I had remembered to snap a picture of this gradient, before I stamped over it, but alas, I forgot (sorry).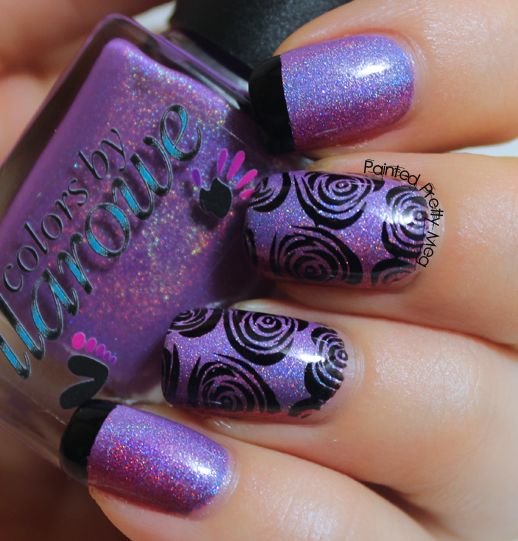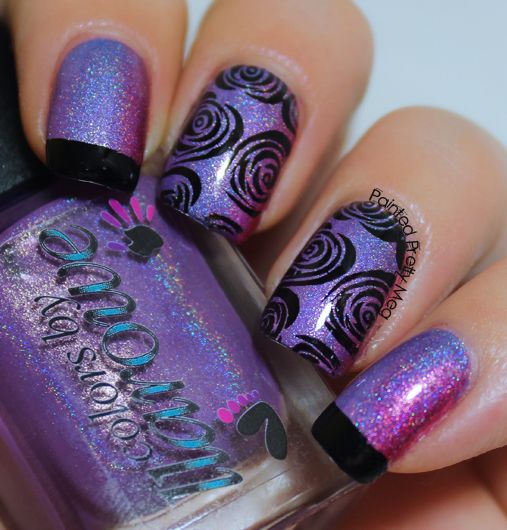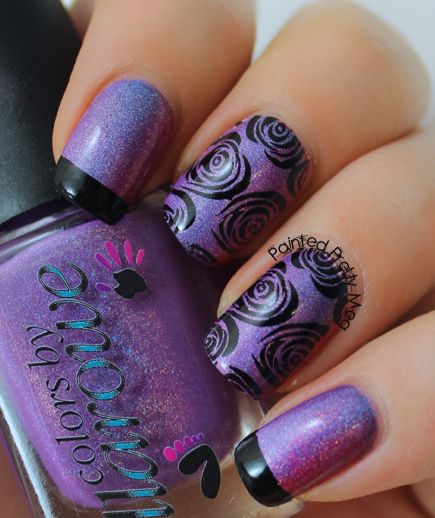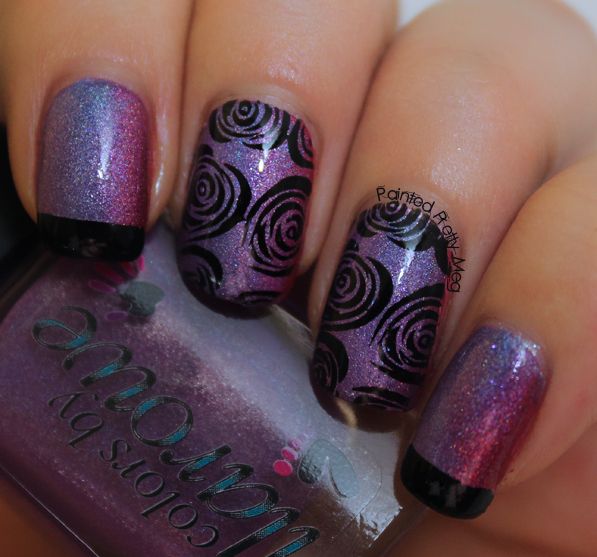 Low Lighting, still so gorgeous!
As always, I want to start off by saying, my light box didn't do the holo on this justice! It is much stronger in person. I was hoping to nab some outdoor shots, but it has been nothing but rainy and overcast the past few days, so such is life. I also wanna say sorry for the picture spam, I just love this so much, that I ended up with way too many pictures, and this was as much as I could narrow it down!
For this look, I started off with a base of Cult Nails Tempest. I then sponged on, in a diagonal line from left to right. Colors By Llarowe Tank Tops and Flip Flops, Cirque Colors Sky Woman, and Colors By Llarowe Lucy I'm Home. Lucy I'm Home came out a lot more pink, then coral, when sponged on this way, but I can't say that I mind at all really, since it looks really pretty in this gradient. I waited for my nails to fully dry, I did not use top coat here, since I didn't want to use to much, and dull the holo effect, once it was dry, I stamped over the gradient with MoYou London Pro Plate 10, in Cult Nails Nevermore on my middle and ring finger. I used Nail Vinyls on my pointer, pinky, and thumb and did the tips in Nevermore as well. Then I top coated, and voila gorgeous mani!
This came out even better, then I thought it would, and I couldn't be more pleased with the end result. I really love that the blue glitters in Sky Woman really show up in this mani, and that the colours blended so well, that it almost has the look of a duo-chrome, since depending on the light, and the angle of my hand, the colours seem to almost shift.
I think this is the perfect mani, to bring in May. Holographic, flowers, and bright! I honestly, can't believe it is here already, not that I am not ready for the warmer temperatures, it is just that it feels like it was just March, and now bam! May is here, however, being sick with a nasty sinus infection for most of April, may have added to my shock of it! :P Has anyone else got the holo bug that I seem to have lately? I think it was the long winter, and the promise of summer on the horizon that has me wanting all the holos!
I think that mostly covers it for today guys and gals. I hope everyone has a great weekend, and of course great weekend mani's! Till next time Kittens! <3