Hey Guys!
I managed to squeeze in another post this week, and I am pretty happy about that, since I wasn't sure I was going to be able too, but of course I couldn't stay away! :P Tonight I have the gorgeous Colors By Llarowe Deanna It's Blue to show you all. This polish is so deep and rich, and mysterious. It is a deep midnight blue holo, and let me tell you up front, it is a serious stunner.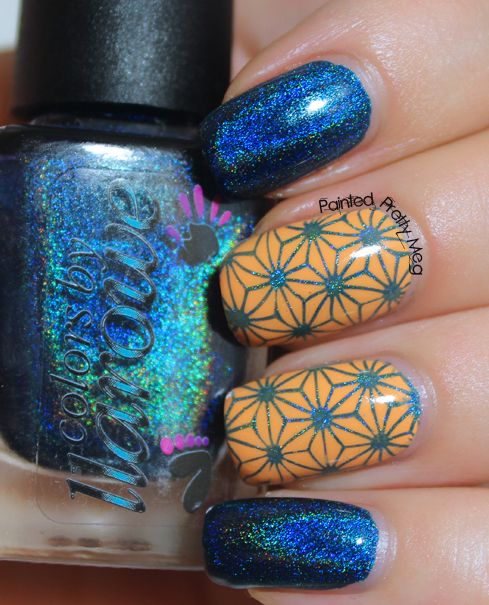 Have I mentioned before, how much I love Colors By Llarowe polishes?!!! I am almost certain I have, but just to make sure...I love CBL! I am seriously addicted to all things CBL, and I have this need to own all the CBL polishes.
To get this look, I applied 2 coats of Colors By Llarowe Deanna It's Blue on my pointer, thumb, and pinky and 2 coats of Totes by piCture pOlish on my middle and ring fingers. Deanna It's Blue is certainly opaque enough to only need 1 coat, I simply did 2 out of habit. Once that was dry, I stamped using a MoYou London plate, I want to say it was from the princess collection, but I fail, and honestly can't remember!! Sorry!! I stamped using Deanna's It Blue. Then I top coated using my faithful HK Girl top coat, and I was done!
Now, Let's talk a bit about the polish. Deanna It's Blue, is stunning, almost mesmerizing in it's beauty. Honestly, I don't go much for blue holo's but this, is just..uhh..there are no words. It is a tad on the thick side, but nothing that made it hard to work with, and if thicker polishes aren't your cup of tea, you can always add a few drops of thinner. I can't comment on wear time, since I just did these today, but I will be wearing this most of the weekend, so I will likely come back and edit this later. If you don't have this polish, you should certainly get your hands on this. It was recently retired, but there is some still available at
Harlow and Co.
and they ship worldwide too!
Alright guys and gals, I think I will leave off here, Wish me luck tomorrow, as I am doing the bridal party nails for a friend's wedding, and I can freely admit, since this is so many people, and such an important event I am a tad nervous! Has anyone else done any nails for friend's for big events?? Do you own this polish?? Do you love it?? Let me know! I hope everyone has a great weekend!