Evening all!
I was hoping to get this up a bit earlier today, but the day got away from me! Anyway, tonight I have for you a mani that the boyfriend picked out. I was a bit stuck on ideas, so I asked him for some inspiration. After some talk about colours, and designs, this was the end result!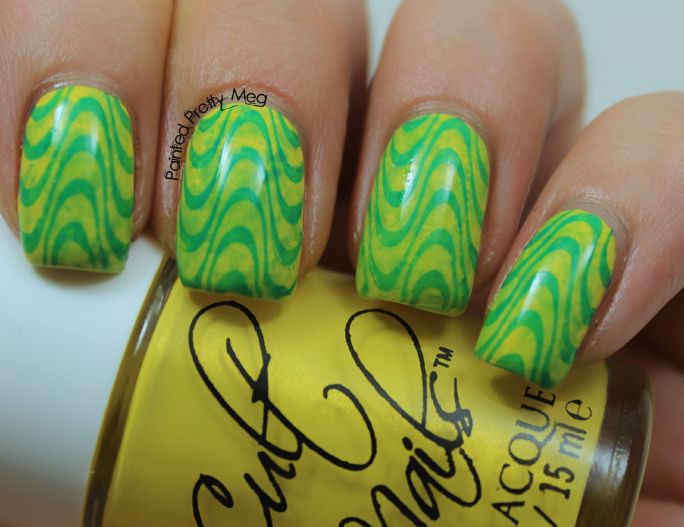 I had a ton of fun doing this with him, I really love when I can share my obsession hobby with him, and he seemed to have a lot of fun too. He got into picking out colours, and stamped designs for me, plus when I was done and showed it off to him, he seemed to get more excited then he normally does. I actually was a bit on the fence about this, when I first finished, but his enthusiasm for how it looked rubbed off on me, and now I can't help but love the way this turned out.
To get this look, I started with a base of Cult Nails You're My Dandy Lion, which is a super gorgeous streak free yellow, with the softest shimmer in it. Once that was dry, I did the saran wrap technique, using Zoya Josie, and Sally Hansen Green with Envy. I prefer to paint the saran wrap, instead of my nails. I find it gives me more control over where the polish goes, but I do know you can also paint your nail and remove the polish with a balled piece of saran wrap too. At this point I threw on a coat of HKGirl Top Coat, then I stamped with an unnamed Color Club polish that I found at Winners, using MoYou London Sailor Plate 07, and that was it!
Even though, I had some hesitation about this look when I first finished, it is really growing on me, and I love even more that the boyfriend was the mastermind behind this look! Do you ever let someone else pick out your manis? I definitely know him and I will have to do this again! Till next time Kittens! < 3