Evening Lovlies!
Yesterday, I finally got my hands on Colors By Llarowe Seahawks Lime. I honestly, have been lusting after this shade, and Orange Crush from the same collection, since I first saw them a couple months back, but had pretty much given up any and all hope to owning them, since they were a in 1 run Superbowl special, with two other colours, and I didn't actually want these cause of football, I wanted them, cause of how gorgeous they looked! :P I honestly know nothing about football, I fail at all things football actually! lol
Well, you guessed it! I got my little paws on that shade, and Orange Crush too, over the weekend, thanks to a restock, from
Harlow and Co.
Well, they arrived yesterday afternoon, and I just couldn't wait any longer to put it on, and see if it was as gorgeous, as I thought it would be from pictures.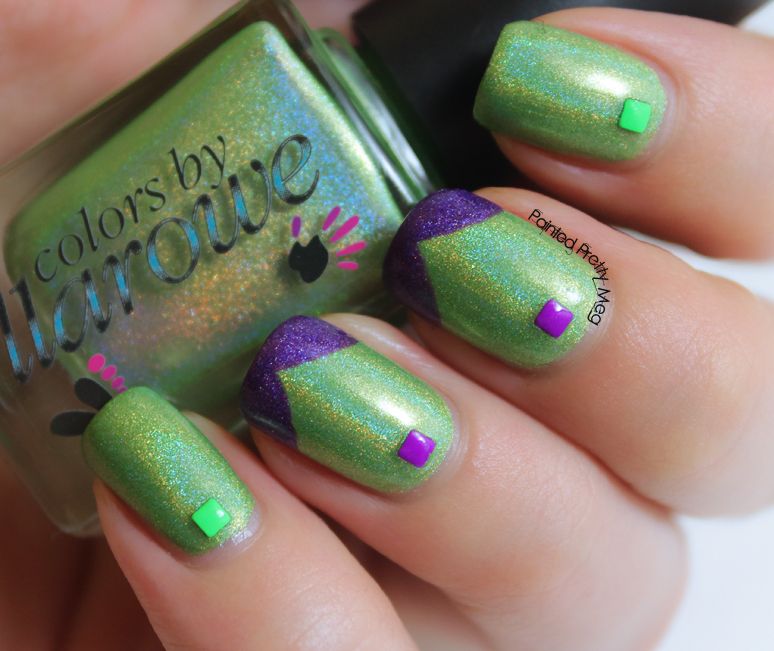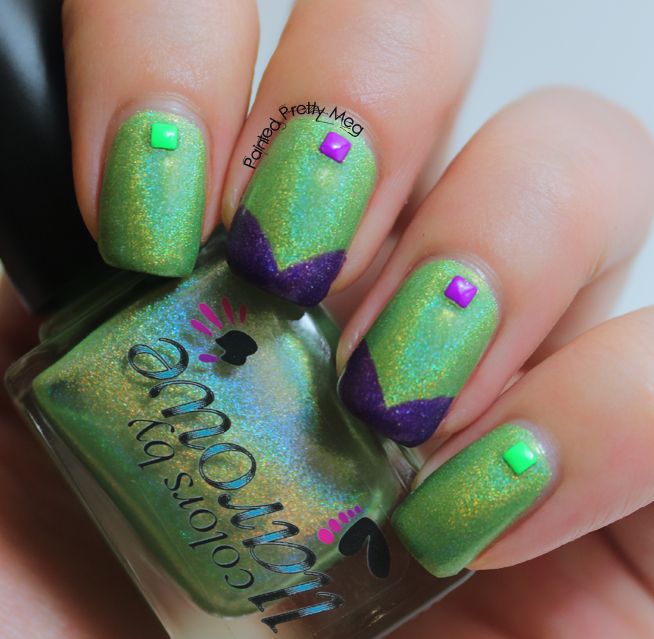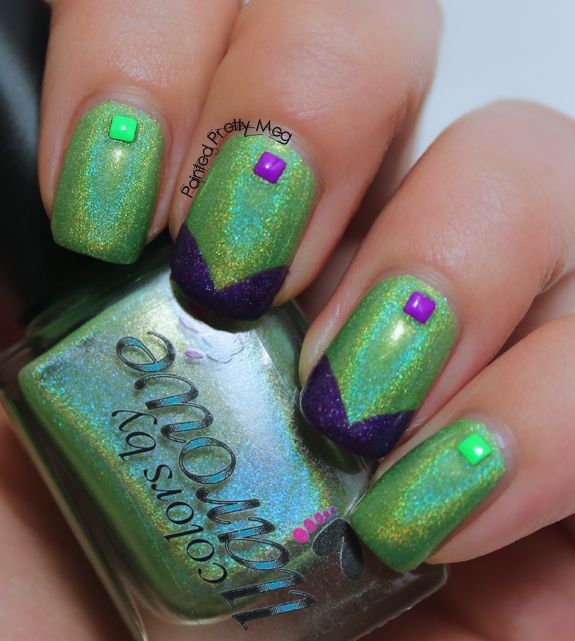 A bit blurry, trying to capture the holo, and didn't even come close! :P
Let me just start off with, yes, yes it is in fact just as stunning as I had hoped it would be! The holo, is super strong, even though my light box, dulled it significantly, I promise though, it is so in your face with rainbow awesome! It is like there is some mystical awesome magic in it, to make this polish beyond amazeballs, or perhaps Unicorn magic? I don't know, I just know, that every time I look at this on my nails, I get all giddy and excited and think perhaps magic dose in fact exist.
Now, let's talk formula, it was great. Like all CBL polishes, it is a tad on the thick side, but nothing that isn't manageable, and nothing that presents a problem in application. It went on super smooth, with no streaking or blad patches. It did take 3 coats for it to be opaque, although, it was good at 2, but a lot of the times, what is good in person, normally leaves it looking a bit thin when you end up taking pictures, so I did a third coat to be sure. That was a first for me, since CBL polishes tend to be super opaque normally, but like I said, I would have only done 2 coats, if I wasn't planning on taking any pictures.
Now, let's talk about this, uhh art!? Not sure that is what I would call it, but I am proud of it anyway! Here's why, see, I don't freehand very often, almost never at all really, but one of my New Years resolutions, was to expand my art skills, work on things in my nail art, that need work, and that is where this comes in. I free handed those tips, and I know it isn't much, I know that tons of you, would say!? That's all, that is what you are so proud of!? I know, I know! It may not be a big deal to some of you, but to me, having free handed tips, like this, just shows me, how far I have come, since, just a year ago, I couldn't even stay painting inside the lines, or in this case, nails. So, even if it isn't much to any of you, it is a pretty big deal to me! By the way, since I haven't stated it yet, I used Glam Polish, Look at Me I'm Sandra Dee. The studs are from Born Pretty Store.
Alright guys and gals, I think that covers it for today, I know, I have for sure rambled enough for one post! I hope you all are enjoying your week so far. Do any of you get super proud over small nail art things like this? Does it ever shock you when you think about how far you have come?? Let me know in the comments! Till next time Kittens! < 3