Heya Guys!
Recently I re-watched Alice in Wonderland for the millionth time, and it was during that movie that this mani was inspired. Anyone who has seen the movies previously, likely remembers
these flowers
.
When I was a kid, these were by far one of my favourite things in all of Wonderland, not that the broom dog, wasn't awesome too, cause well, broom dog, but I just loved the vibrant colours and unique shape, of these flowers, possibly the flowers being able to talk and sing, might have added to my interest in them. Either way, when I re-watched that movie, I couldn't help but think to myself, "How have I never done these flowers on my nails before!?"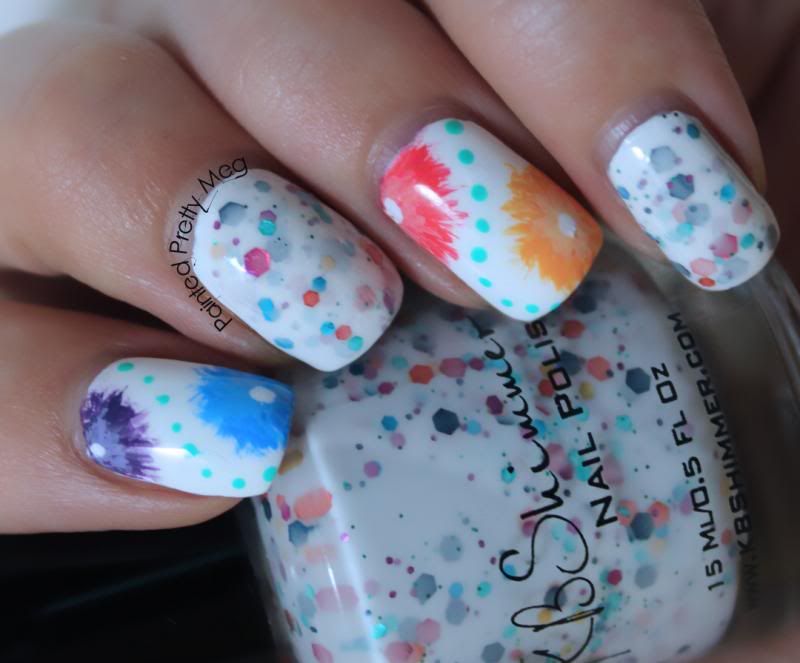 I am really proud of how these came out. They really remind me of the flowers from Alice in Wonderland that I loved so much as a kid. I paired these flowers with one of the new KBShimmer spring shades Full Bloom Ahead, which is a gorgeous sister polish to KBShimmer Oh Splat!
Full Bloom Ahead goes on smooth, and there is no fishing for glitters, although this is the norm when it comes to any KBShimmer shade, so I wasn't surprised it was a dream to work with.
Now, for the flowers, this is where it gets a bit complicated since I used so many polishes. I started out with a base of Cult Nails Tempest, then once that was dry I painted the flowers onto the nail, using a nail art brush, and a dotting tool for the centre. The dotted lines down the middle of each flower nail, was done in Picture Polish Chillax. I will list the polishes I used for the actual flowers below, since there were so many, I think trying to type them out here, would get a bit complicated. The first one, will be the outside darker colour, and the second will be the inside lighter colour.
Polishes Used:
Purple Flower - China Glaze - Grape Pop, China Glaze -Tart-y for the Party.
Blue Flower - Picture Polish - Swagger, Julep Margaret
Red Flower - OPI - Live.Love.Carnival, Picture Polish - Peaches n'Cream.
Orange Flower - Picture Polish - Totes, Jessica Cosmetics - Banana Peel.
Even though my freehand still needs some work, I feel I am learning a lot and getting better every day. Overall, despite it not being perfect, I really do love these and I am fairly certain I will be rocking these pretties for at least a few days. Do movies ever inspire your nail art? If so, what movies? Let me know in the comments! Till next time Kittens! <3