Heya Guys!
This morning I have a simple, yet classic chevron look to show off. I am starting to think, it is my go-to choice in nail art, when I am feeling unsure about what I want to do, uninspired, or just plain in the mood for a chevron! I feel like, you can never really go wrong with a chevron mani to be honest, and since I am still recovering from this horrible, icky, sinus infection, I went with something tried and true for me!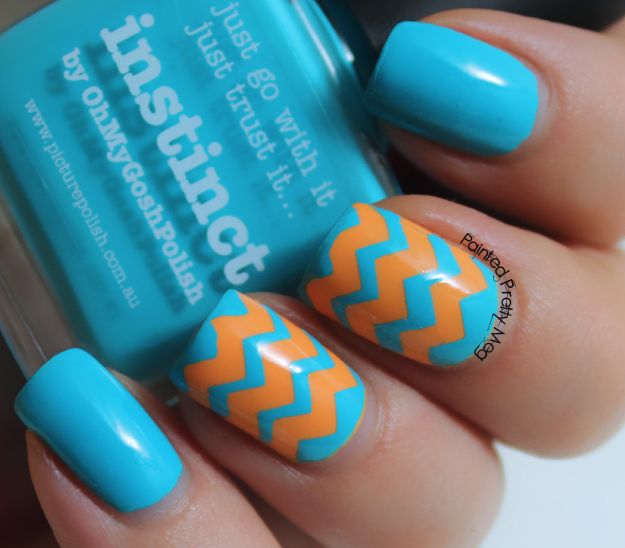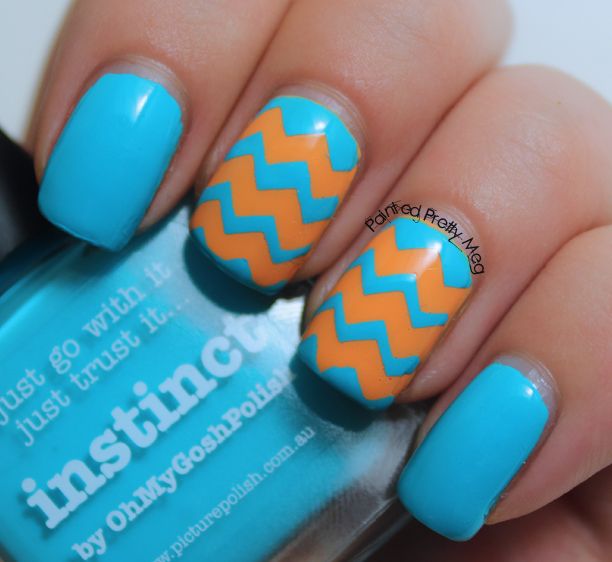 To get this look, I simply grabbed Instinct, which is the most recent Picture Polish collab shade with
@ohmygoshpolish
, It is a super pretty robins egg blue, that almost glows from within. I will admit, when I first got this polish, I thought it was a glow in the dark polish, it is not. I misunderstood, it glows, but only under black light. I just wanted to share that, since I have heard a few people think it was also glow in the dark, anyway, I painted, my pointer, pinky, and thumb with Instinct. I then paired it with another PP shade, I used Totes from the new Urban Shades Collection. Totes, is a warm yellow, almost orange polish, however when I paired it with the blue, it mostly just looked orange on me! It isn't quite as bright as my pictures show, but it did end up looking more orange then yellow, once I added the blue chevrons. I painted my middle, and ring finger with Totes, then once that was dry, I grabbed some awesome sauce
Nail Vinyls
and painted over Totes, with Instinct. I then simply top coated with KBShimmer Clearly On Top, and voila! I had an easy peasy chevron mani!
I really love both of these shades, and although Instinct isn't entirely unique to my collection, it is a really gorgeous, easy to work with polish. Now, as for Totes, I am in love! It is a super easy to work with yellow/orange polish that went on the nail like butter AND it is super unique to my collection. I am still not even sure weather I should be calling it orange, or yellow! How about yelange?? No....yeah, that is pretty bad! sorry, I couldn't help myself :P Both polishes are worn with 2 coats, except the chevrons, that was 1 coat. Instinct honestly would have been okay at one coat on my other nails, I just did a second coat out of habit, it is a fairly opaque polish.
Alright guys and gals, I think that mostly covers it for one day! What is your go-to mani when you are stuck, or uninspired? Let me know, in the comments! Till next time Kittens! <3