Hiya guys!
A little while back, I picked up some of the polishes in the Glam Polish Pixie Hollow Collection. I am really in love with these polishes, more so then when I had only seen swatches online. I think one of the best things, is when you have super high expectations for a polish, and then when you finally get your hands on it, it not only meets them, it surpasses them. Well, every one of these polishes from the pixie hollow collection so far, has done that for me!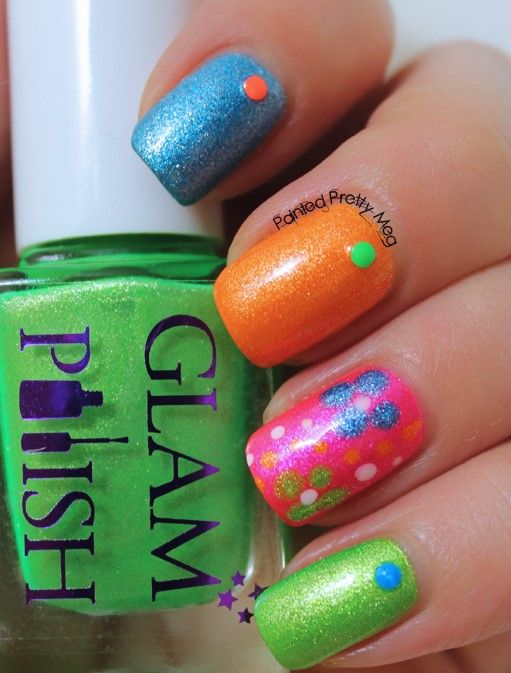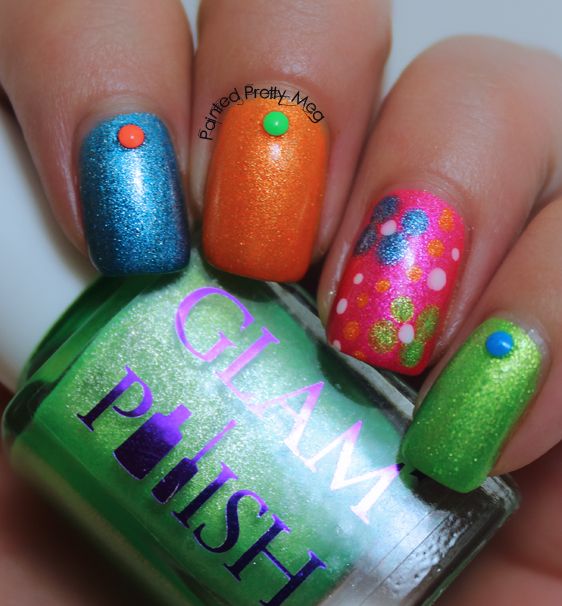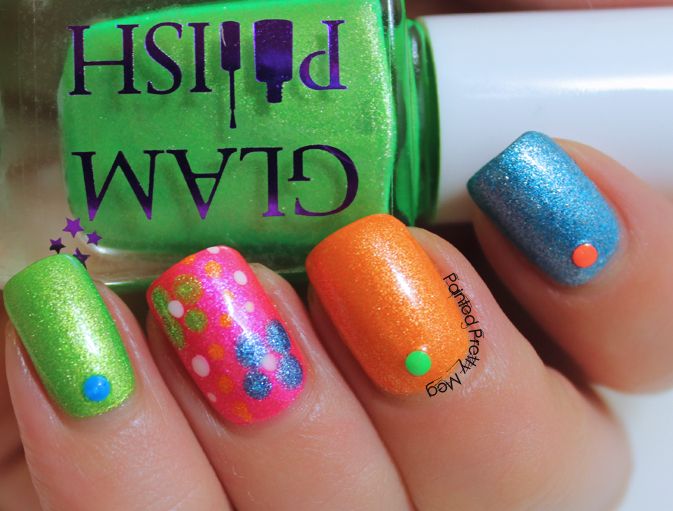 The bright colours in this mani, just makes me smile, every time I look at my nails! I am really big on colour, so these polishes almost feel like they were made for me! The silver shimmer in them, is just the icing on the cake, of bright neon awesome! The colours I used were, Silvermist (blue) Fawn (orange) Sweet Pea (pink) and Tinkerbell (green) and, I used dotting tools for the flowers on my accent finger, and thumb (which is not shown) and placed neon studs from Born Pretty Store in coordinating colours on all the other nails. Then I topped it off with HK Girl Top Coat, and voila! I was done!
These all went on amazingly well, They are a tad thick, but nothing that isn't easy to work with, and with the heavy silver shimmer it is to be expected. They had a good dry time, and in all the pictures, it was 2 coats.
I really adore how fun and bright and summery this look is, It may not be summer here yet, but it is coming, and polishes like these get me super excited for it! Alright, I think that is it for today guys and gals, I really hope everyone is having a great Friday, and I hope you all have an awesome weekend! Mine is filled with relaxing and movies and general lazy bum like behavior, since I am so ready for some down time, after the crazy few weeks I have had. Till next time Kittens! < 3