Heya Guys,
We have been having a lot of rainy April days around here lately, so when I received KBShimmer Make My Gray in the mail, last week, I knew it had to go on my nails, the second I had some free time. Well, I found some free time today, so here is what I came up with for wearing Make My Gray.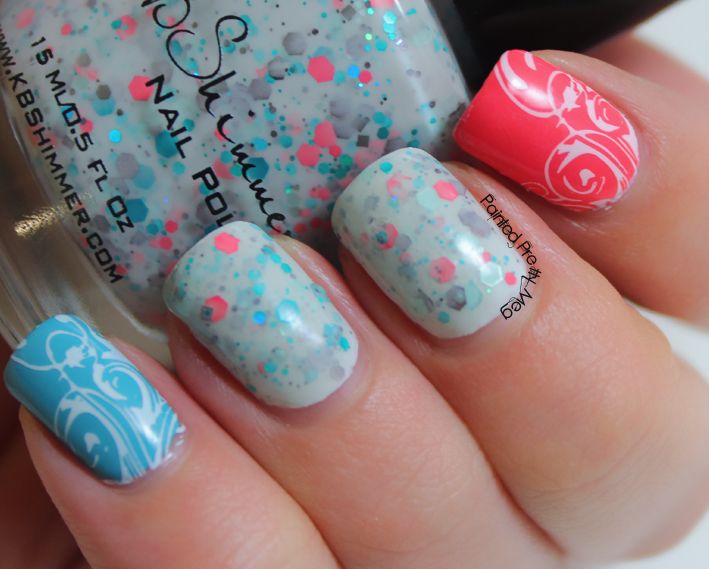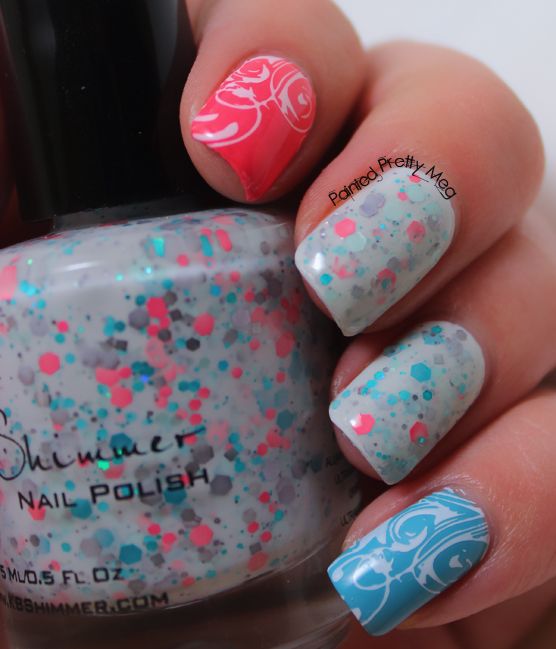 Make My Gray, is a soft, gray crelly, with adorable coral, pale aqua, and gunmetal gray glitters. It is such a unique combination, and I think that is why I love it so much. Also, it really does remind you of a rainy spring day. I paired this with OPI Live.Love.Carnival on my pointer, and OPI Can't find MY Czechbook on my pinky. I then stamped with Cult Nails Tempest, using a MoYou plate, can't remember which one. It was a Pro plate, but the number escapes me at the moment, sorry.. :l
I like, that this is soft for spring, but that the, coral and aqua blue shades give it a bit of a bright factor, they also really make the glitters in Make My Gray pop! Make My Gray, like any other KBShimmer shade I have ever tried, went on beautifully. The glitters came out of the bottle without any fishing, and the polish was super easy to work with on the nail. If you are looking for a super unique spring shade, then I highly suggest considering picking this one up.
Alright, guys and gals, I think that is pretty much it for today, or I guess this evening since it is well after dinner time. Oh! before I sign off here, I will give a brief update on the nail room project. If you follow me on instagram you know that, I have made a few "nail room" posts, so you have seen a bit of how it is coming along, but just to let you all know, I sh tould be done by the weekend. I just wanna pick up a couple more things of furniture to fill out the room, and I will be done! I am using the room already though, and I will just say, I love it! I love everything about it, it is like my little sanctuary! As soon as I get the last little touches, I will be sure to put up a post, and share it with you all! Alright that's all for now, till next time Kittens! < 3